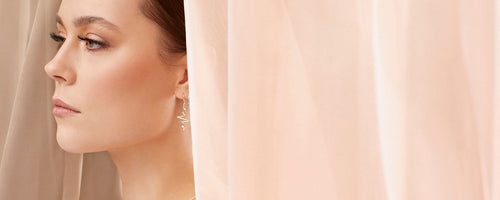 Earrings By Sofia Wistam
By Sofia Wistam makes beautiful earrings, in silver, and in gold. We are offering earrings in different designs and sizes. Our focus is on the relatively small and dainty pair of earrings that is perfect to wear for both everyday wear and special occasions.
All of Sofia's Wistams earrings have a history. It's all about the love, the joy, the hope, friendship, and living in the moment, and much, much more. For the one who wears them, it can act as a symbol or a reminder about what's most important in life. It's what we call Jewelry for a Lifetime.
Buy a pair of earrings, either for yourself or to give as a gift for a friend or loved one. You can choose a pair of earrings, with a message that is just right for you, or that you are close to.

Gold earrings and silver earrings

We use genuine materials of the highest quality. Our earrings are made of sterling silver 925, and guldörhängena it has an area of 18 karat gold, silver, or brass.

Silver earrings is aging gracefully, but should be cleaned from time to time in order to achieve the best of quality and finish. If you are afraid of her silver necklace keeps it in the generations to come.

Our gold earrings are gold plated, which means these pieces are dipped in 18 karat gold on top of the core, which is made of sterling silver or brass. It's a beautiful area at the same time, as you have to be very careful with the gold ear-rings, because of the surface, otherwise, it can be rubbed off.

A pair of earrings of the highest quality. The unique design and excellent workmanship

All of our earrings are uniquely designed by Sofia Wistam. Subsequently, the constructed protyper, in close cooperation with carefully selected the gold - and silversmiths. The first of them are checked and tested, on the basis of multiple shape and dimensions of quality. When the city is pleased with them, we order a larger quantity of the specialists, and tradesmen.

Combine and match stud earrings

Our stud earrings are great to wear in the combination of several pierced ears. That is to say, to wear two, or more, a pair of earrings at the same time.

Of course, you can easily carry in our hoop earrings along with jewellery, in the same collection for a complete and synchronized effects.

Wearing a pair of earrings to the set or in her hair. The right pair of earrings for the right outfit can give your style a boost.

The earrings are from a Village in the Sofia Wistam
In this section of our website you will find various types of earrings for the a variety of styles, moods and occasions. Our earrings are available such as rings, pins, and pendants.
Treat yourself to fill in your smyckesskrin both elegant and timeless stud earrings in gold or silver, and to boost the look of your outfit a bit more of the market's finest chains, necklaces, earrings, bracelets, and rings are of the kind.
In our extensive crafted and uniquely designed earrings are available in a variety of materials, styles, and colors, and is suitable for any occasion.
If you're looking for a little something extra for that special occasion, you can find a pair of earrings, with a look and a story that will appeal to both you and your friends.
Find your new favoritsmycke of today.

Filters